Your Guide to Lake Buchanan

"Lake Buchanan is now full and BEAUTIFUL!"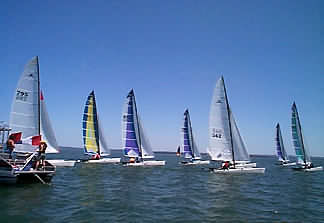 A Regatta on Lake Buchanan
Lake Buchanan (pronouced buh-CAN-un) is the second largest of the Highland Lakes in Central Texas with a length of 30 miles and a width at the widest point of just under 5 miles and a shoreline of 124 miles. It is named for Representative James P. Buchanan (1867-1937), not the 15th President of the United State as some believe, who is credited with securing the funding to build the lake and dam. When it was built, 1938, Buchanan Dam was considered to be the longest multiple-arch dam in the U.S. with a length of just over two miles.

The lake is very popular with boaters, fishermen, campers and swimmers. The lake is so large that you will never feel crowded on the lake. There is always plenty of "elbow room" on each of the Highland Lakes. In 1995 over 1 1/2 million Striper Bass were stocked in Lake Buchanan. To find a fishing guide to take you out on Lake Buchanan - click here.

Waterfalls up the Colorado River
from Lake Buchanan

RV Parks, cabins for rent and campgrounds, and lake rental houses are available along the lake. There are a few cafes near the lake: one specializes in catfish, another in good old Texas B-B-Q and some with Texas home style cooking.
The photo above is a privately owned lighthouse that is near Buchanan Dam. It can be seen as you drive along at the south end of Lake Buchanan on Hwy 29.

There is a nice granite gravel shore around some of the lake providing an ideal beach for swimming, wading and sun bathing.

You can take a cruise up Lake Buchanan on a 200 passenger vessel complete with an enclosed all-weather deck plus two observation decks. Operating year round with the 2 1/2 hour scenic wilderness tour through the historic Colorado River Canyon. Perfect for spotting the nesting Bald Eagles and looking at the waterfalls.

Fall Creek Vineyards is a popular winery on the west side of the lake where you can stop in for a little wine tasting and buy a bottle or two of Texas wine. They also offers tours of the winery.


Striped Bass caught in Lake Buchanan

Lake Buchanan is located 60 miles northwest of Austin and 95 miles north of San Antonio. It is about 200 miles south of Dallas and Fort Worth and 200 miles west of Houston.

You can click on these links below to see more photos and information:
Bird Watching, Wildlife and Wildflowers.

To see more photos of the Lake Buchanan area - Click Here
Featured Cabins

.
Big Chief RV Resort and Cabin Rentals
At the dam on Lake Buchanan

Voted Area's Best RV & Cabin Resort and the BEST VALUE in 2 counties! Stunning sunsets, Clean cabins, incredible pool and hot tub, large pull through sites, Clubhouse, Boat Ramp, easy deep water access for boaters and much more.
.

Rainbow Hearth Bed and Breakfast
on the east side of Lake Buchanan

Nine lakeside acres of lush tree-covered hills and panoramic views. Featuring: beautifully and deliciously prepared organic and natural food, intimate, candle-lit dining, "Sleep Number" (TM) beds, spa and hiking trails, and the finest massages available...anywhere!

Cabin Rentals and RV Spaces
Hi-Line Lake Resort
"Where Heaven Kisses the Lake"
Located on scenic Lake Buchanan near the beautiful Fall Creek waterfall, Hi-Line Lake Resort has 16 waterfront cabins, 7 waterfront RV sites, and 46 RV sites overlooking the lake. The Hi-line Lodge sleeps 20 and is great for family reunions.
Thunderbird Lodge and Event Center
on the east side of Lake Buchanan

Lake cottages, boat rentals, floating fishing house, swimming pool, children's play area, fishing guide and charters are available.

Texas Hills RV Haven
on the northwest side of Lake Buchanan in Tow, TX

Waterfront resort with 2 rental cabins and 15 RV spaces on beautiful Lake Buchanan . A boat ramp for launching your boat is on the property. Family owned and operated.

Beachcomber Park
on the west side of Lake Buchanan

Cottages for rent and RV Park at this waterfront resort. They also have 2 boat launces and boat docking and storage.

Poppy's Pointe Lakefront Resort
on the west side of Lake Buchanan

9 cabins for rent and 58 RV spaces, swimming pool, recreation/meeting hall, boat launching ramp, laundry room, and lots of waterfront to fish from.

Cottonwood Cove
on the west side of Lake Buchanan

Lakefront cabins, RV spaces, boat launch, lighted fishing dock, covered boat docks, and boat storage. This resort is close to Fall Creek Vineyards.

Rainbow Hearth Bed and Breakfast
on the east side of Lake Buchanan

Nine lakeside acres of lush tree-covered hills and panoramic views. Featuring: beautifully and deliciously prepared organic and natural food, intimate, candle-lit dining, "Sleep Number" (TM) beds, spa and hiking trails, and the finest massages available...anywhere!


.
Big Chief RV Resort and Cabin Rentals
At the dam on Lake Buchanan

Voted Area's Best RV & Cabin Resort and the BEST VALUE in 2 counties! Stunning sunsets, Clean cabins, incredible pool and hot tub, large pull through sites, Clubhouse, Boat Ramp, easy deep water access for boaters and much more.
.

.Fishing Guides
Clancy's Fishing Guide Service
Stripers and Trophy Catfish guide service on Lake Buchanan and Inks Lake. Ask about the Fish and Chips Package for people who like both golfing and fishing. Bait and equipment are furnished.


Ray's Striper Fishing Guide Service
You can count on Ray Williamson�to provide you with everything you need to catch stripers. He�enjoys guiding novice and experienced fishermen alike on�Lake Buchanan in the beautiful Hill Country of Central Texas and�teaching�novice fisherman how to find the big ones and catch them.

.Real Estate

Lake LBJ Real Estate - MLS Search


Giles Summerlin with RE/MAX of Marble Falls specializes in Lake LBJ Real Estate and Texas Hill Country Lake Living.

.Boat Dock Builders

Spillar Boat Docks
If you are looking for a floating dock, deck, boat lifts and personal watercraft lifts, Spillar Boat Docks is the place to call. Their family operated business has been building boat docks since 1945 in the Highland Lakes area.
.




Check out this page for the events
throughout the entire year in the area.

Lake Buchanan Map


Web Page Design and Hosting
Need a web page? Want to have your web page listed on this web site?
Use our

Highland Lakes Home Page
Touring U.S. Home Page